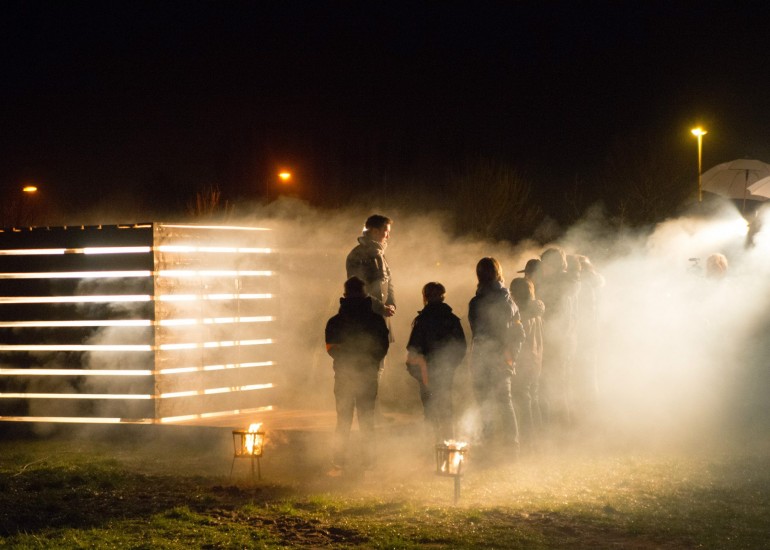 Kubus de Game
13/01/2015
Kubus de Game was a live-action game show for teenagers in Leidsche Rijn, a district of Utrecht.
We were commissioned by Cultuur 19 and Utrecht City Council/Castellum Hoge Woerd to make an interactive experience which would connect youth in Leidsche Rijn with the local history and their identity with the district.
From September to December 2014 we designed Kubus de Game. In November/December the game show was played for three weeks, culminating in an exciting finale.
When a player registered on the website, they joined one of two teams. The objective was to score as many points for yourself and your team, to eventually be the one to get to open the mysterious giant cube and discover its contents.
Players scored points by playing puzzles on the website and unlocking online achievements. In the first week, players could send in creations which aimed to give colour to their team: a team name, song, logo, mascot and slogan. The players voted for their favourite and the winner scored points and had their creation used throughout the game. Every Sunday we organised an Arena Game: a live and physical game with lots of puzzle-solving, running about and shouting! The Arena Games allowed the players to score the most points. Throughout the second and third week players could solve puzzles to find the location of a pillar somewhere at a historically significant location in Leidsche Rijn. Players had a wooden cube with an RFID chip inside, so they could "check in" at the pillar. The team with the most check-ins that day conquered that neighbourhood.
The game culminated in a grand Finale near Castellum Hoge Woerd, at night in the freezing winter cold. With onlooking parents and friends, the twelve players with the highest score battled it out in several difficult challenges (including a massive maze!) until only one player was left. The winner got to open the giant cube, and see what was inside.
We organised a small alternate reality game the day after the Finale for a select number of the most enthusiastic players as an extra reward.
We incorporated historical themes into as many puzzles as we could, thus allowing our players to learn about the history of their district in an engaging way.
The development of Kubus de Game was done hand-in-hand with a group of young people who helped us to not only create gameplay, puzzles and graphic design, but also helped us to discover what our target audience liked and disliked, as well as having a core group of playtesters.
Kubus de Game was a gameshow, which meant that we uploaded two filmed episodes every week, in which the host Jim Strolenberg explained what was achieved in the past few days and what the new objectives were. We made sure to mention and engage as many players as personally as possible, not only through the episodes, but also via social media.
I mainly worked on the game design in this project.
Kubus de Game was also made by:
Robert Groenewald: Technician, Building
Sebastiaan Hensen: Game Design
Trevor Holtkamp: Game Design, Graphics
Jeffrey de Kogel: Writing, Social Media Manager
Marlotte Nijenburg: Production
Jim Strolenberg: Project Lead, Presenter
Ronald Werkhoven: Web Developer
Roland Volbeda: Film, Editing